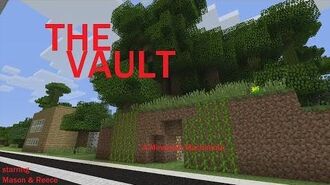 The Vault is a Minecraft Machinima made by Tomzgames in July 2015. It took about a week total to make.
*Few days building map
*Couple days writing script
*2 hours recording
*3 hours editing
The Vault takes place in 2046 in New Dork City, a spoof of New York City.
References and Parodies
•Jack references the video game Fallout 4 with the parody of Rise In 4.
•Even though it wasn't seen in the video, there was a sign that said Swedish Navy Sword in Adam's Lab. This is a spoof of a Swiss Army Knife.
•The Statue of Dorkiness is a spoof of the Statue of Liberty.
•Blac-man is a parody of Pacman. (The colors of Pacman being inverted)
•A building was built like the mushroom in Mario.
• Roger and Hank have tombs in the graveyard. These are characters from an old Tomzgames Minecraft series.
Trivia
this was originally intended to be a series but was changed to a single long video
this only had 2 actors in it which made what we could do very limited
reeces mic had issues during the recording session which is why he is hard to hear
this was one of the most biggest projects on the channel so far.
a sequel was planned but it was cancelled