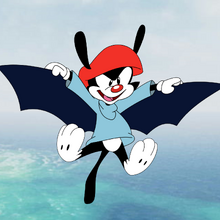 WakkoPlaysGames, Wakko or Conker the Squirrel (in some cases) is one of Tom's friends. He was previously named TheDarkRaven from Oct. 15, 2015 to July 16, 2016, and RaVn7HD from July 16, 2016 to Jan. 10, 2018. They have most notably played TF2, and made pointless (yet funny) videos. 
VIDEO LIST:
THIS VIDEO HAS NO POINT!!! * (renamed to 'THIS VIDEO HAS NO POINT!!! V1')
Sniping with Wakko - Sniper Elite V2 (renamed to 'SNOOPER EL33T V2.0 W/ VSOOCE (NOT REALLY ITS WAKKOPLAYSGAMES')
Reacting to Random Videos w/ WakkoPlaysGames (THIS VIDEO HAS NO POINT!!! V4)
The Fortnite Roast - Portal 2 Co-Op w/WakkoPlaysGames
The titles marked with a * means that the video used to be titled with the name RaVn7HD.
Likes
Dislikes
Fortnite (game and dances)
Over-usage of the N word.
Despacito
Trivia
He is a HUGE fan of the Animaniacs, and (if no-one saw this one coming...) Conker's Bad Fur Day.
He is a furry.
He hates Despacito, but finds it funny as a meme.
He played games ever since he was either 4 or 5.
He likes to talk in a european, australian, or a british accent.
He does impressions not so often on camera.